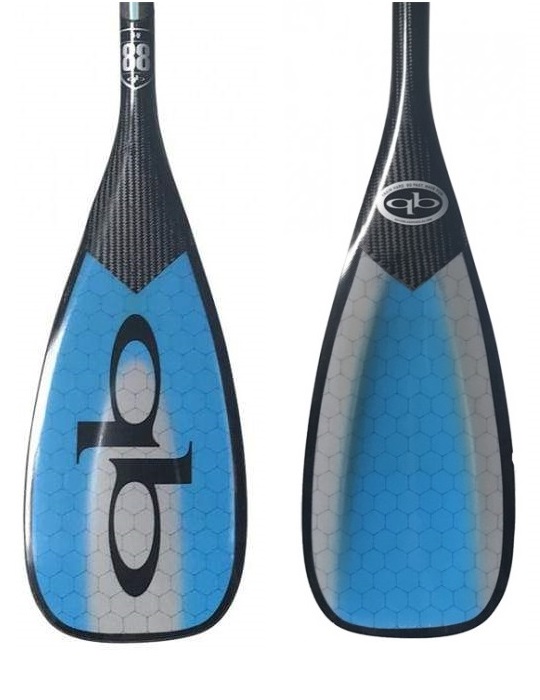 QuickBlade UV New Hex Flex Hybrid ADJ
479,00€
Description
UV Hex New Flex Hybrid by QuickBlade paddles. ADJ 2pcs
Quickblade UV Hex Flex Hybrid ADJ is the culmination of years of work and research.
The aim was simple; to produce the Ultimate V-Drive.
Quickblade founder, Jim Terrell, and renowned waterman, Dave Kalama, hours upon hours of water time and all their experience. They created what many have been asking for an 88" version of Quickblade best selling paddle.
Quickblade could have simply just made an 88 inch version of the V-Drive.
Quick Blade were always going to have to push themselves to new heights.
Result is that the UV88 does much more than just fill a gap in the V-Drive size range of 71, 81, 91 and 101 inches.
The scooped contour of the UV  delivers the famed rock solid catch that the Quick blade V Drive is famous for but it enables a faster release.
This enables you to make your next catch sooner.
The UV is also we think the best looking paddle they have ever made.
The shaft of the UV is also an all new construction.
Black Diamond Elite shaft. With an oval outside diameter of 1'05" (28mm) at the bottom end, tapering to 0.85" outside diameter at the top end.
Additional reinforcement has been added to the centre section of the shaft to strengthen it further still and meet the demands of foiling.
This also benefits those who are not yet or have no plans to foil as the shaft is stiffer and hard wearing.
The specification of the Quickblade UV Hybrid ADJ are
UV-88 is 88 sq/in 7" wide x 18" tall blade raccomanded paddler over 80kg range 70″-80″
UV-82 is 82 sq/in 6.75" wide x 17.5" tall blade raccomanded paddler 65-80kg range 70″-80″
UV-77 is 77 sq/in 6.5" wide x 17" tall blade raccomanded paddler 50-75kg range 70″-80″
Error: Contact form not found.
| | |
| --- | --- |
| Available colors | Green – Lime, Yellow – Acid, Blue, Orange |
| Available sizes | 88 sq/in, 77 sq/in, 82 sq/in |
| Construction | Hybrid, Carbon and fiberglass ADJ |
| Dimensions | N/A |
| Dimensions | N/A |
| Dimensions | N/A |